Description
Have some fun with the .22 bullet.
On our .22 Experience you get to try .22 variants of all the following firearms: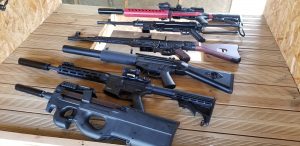 Smith & Wesson 15.22 AR
MP5
P90
SG43
CZ 512
Multiple courses of fire with 10m, 25m and 50m turning targets, the Running Boar target and 100m sniper competition with high power optics this day is the true experience of the .22 bullet and how much fun it can be. You'll get 100 rounds for each gun and will need to allow for 5 hours of fun. Minimum of 2 people, price is per person. YOU MUST BOOK TWO PLACES Remember to bring photo ID.