Posted on
IPSC Mini Rifle Winter League Round 3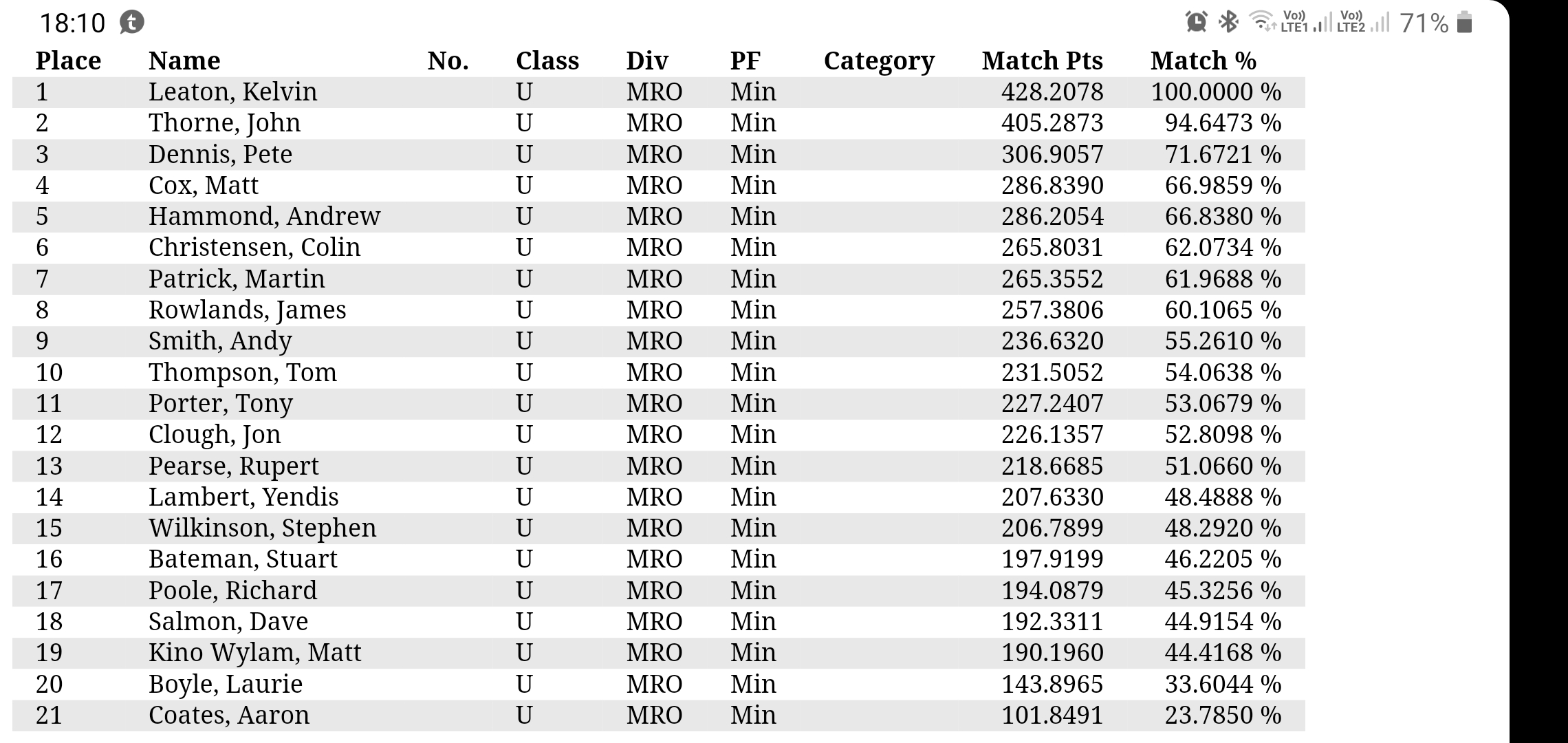 With 3″ of rain the previous day round 3 of the Winter league was challenge to create but attracting the highest number of competitors yet it was a great success especially as we added a further 4 new shooters to the discipline, all of whom shot well, this is how we grow our sport.
Stage 1 involved our now infamous falling plates, shot at 100m distance this pair of 6 IPSC plates (now remote resetting) seems to install fear in all the shooters so it made for a fun stage to warm everyone up. 6 plates were to be shot from one position, then a transition and the second set shot from a second position and despite the fears pretty much everyone cleared all 12 plates with Pete Dennis coming through with the stage 1 win with a time of 63.17 seconds just ahead of round 2 overall winner Andrew Hammond with 69.29 seconds and Martin Patrick a further 7 seconds later.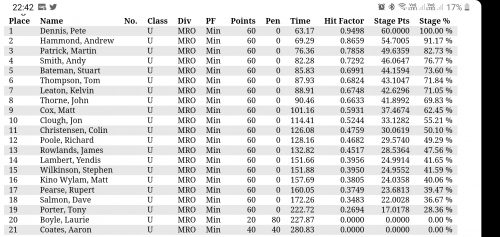 Stage 2 created a radical change of distance and type with 6 IPSC micro targets shot at a distance of 6 metres with one shot per target strong shouldered then a second shot per target weak shouldered. Experience shone through on this round with John Thorne taking the win with a time of 20.48 seconds ahead of Dave Salmon on 23.72 seconds and round 1 over all winner Kelvin Leaton in third with 25.4 seconds.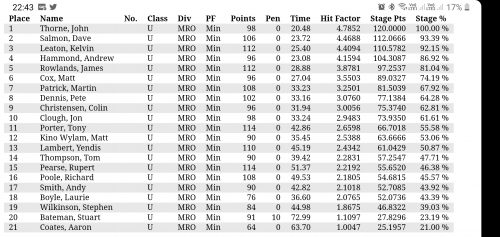 Stage 3 was a very typical IPSC stage with IPSC mini targets placed either side of the range forcing the shooters to engage the targets through narrow apertures moving along the range. Kelvin Leaton took the win here taking 160 points just ahead of John Thorne on 142 and Pete Dennis on 115.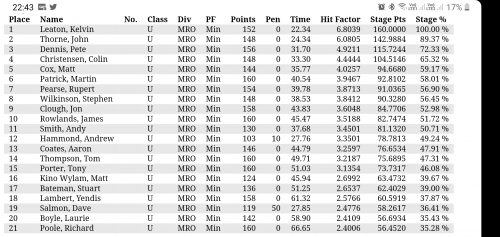 Final stage was the first time we used our new single IPSC plate targets, these self contained single plates allow us to literally dot them round the range to create interesting changes in distances, 11 plates at distances from 10m to 50m were used as well as 6 full size IPSC paper targets again shot at 50m. The papers caused the most issues with several shooters scoring misses as the targets were hidden behind barrels so quite a few shot one target too many times and missed others completely, a tough stage. Kelvin again took the win ahead of John Thorne with Tony Porter third but Stuart Bateman came in 5th in his first ever competition so great shooting there.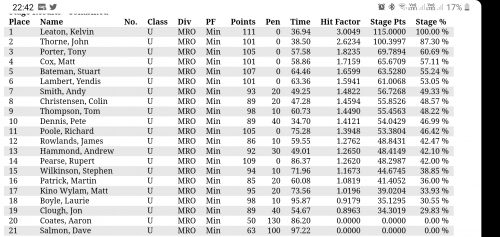 Final scores on the day showed Kelvin coming through with his second round win with John Thorne second and Andrew Hammond third. Overall after three rounds scored leaves the top ten leader board as;
Kelvin Leaton 31
Andrew Hammond 28
John Thorne 28
Matt Cox 19
Dave Salmons 18
Pete Dennis 16
Andy Smith 12
Martin Patrick 8
Matt Liddy 6
Stephen Wilkinson 6
Colin Christensen 6
Tom Samples 5
Mr Smeggy 4
Tom Davys 4
James Rowlands 4
Tony Porter 3
Laurie Boyle 3
Rupert Pearse 2
Aaron Coates 2
Jon Clough 2
Tom Thompson 2
Harry Grewal 1
Asif Ansari 1
Tom Goodman 1
Vian Davys 1
Ethan Thorne 1
Yendis Lambert 1
Stuart Batement 1
Richard Poole 1
Matt Kyno Wylam 1
(total 30 competitors)
With best 4 rounds to count we are only half way through the season so plenty to play for. Next round is on January 18th, to enter click HERE
Due to the increased number of entries we are going to need to get shooters to pre book from now and limit each session (10am start or 2pm start) to a maximum of 13 shooters, so get your entries in to ensure a spot.